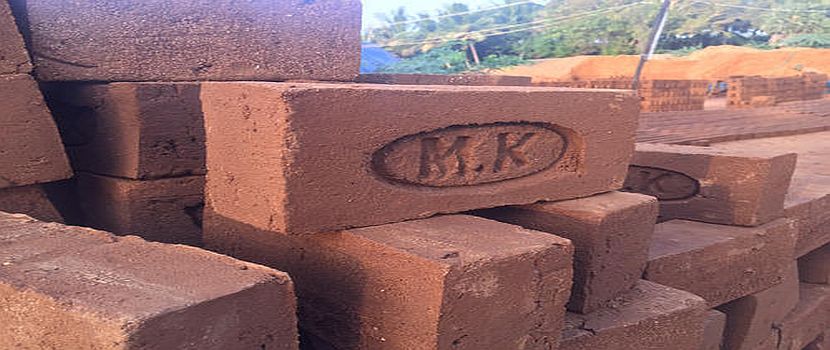 When it comes to building a house, many individuals are unaware of or do not pay enough attention to the walls. This framework is just as essential as other embellishments like paint colors, interiors, and elevation. There are several things to consider while building any wall, and bricks are the fundamental units of construction. When purchasing them, a lot of variables should be considered. The quality and strength of the brick are critical, and this varies as per the location.


About Clay Bricks
Since time immemorial, clay brick has been one of the primary building materials utilized in construction operations. Wholesale Clay bricks in Mohanpura are made by the drying and burning of clay or shale raw material, creating a sintered porous structure.


In this modern age, building materials are quite significant. Its usage is crucial in all fields of engineering. Clay bricks are one of the oldest construction materials and remain a popular and leading building material due to their low cost, vast availability, durability, and ease of handling. Clay bricks are often pleasant to the eye, with warm colors ranging from cream to orange to sandy brown or even blue brown. When wholesale clay bricks are constructed into a wall, fascinating yet basic and attractive patterns emerge.


Making of Clay Bricks
Clay Bricks in wholesale are made by combining water, clay, and an aggregate such as sand to avoid shrinkage and provide bulk. The mud is shaped into a thick consistency and burnt at high temperature. Many various methods and procedures have been devised, and contemporary brick manufacturers may produce millions of bricks every year. Recycling is another source of brick; when brick constructions are demolished, the unbroken bricks are frequently gathered and reused.


Why Choose Clay Bricks
Given below are some of the most important characteristics of clay bricks that will convince you to install these items:
Easy to maintain- Once wholesale clay bricks are installed, they generally take care of themselves! They will continue to look as wonderful as the day they were laid down for many, many years! Other construction materials, such as to render or paint, will need to be replaced several times throughout the years, while clay bricks never fade and always appear timelessly fantastic.


Eco-Friendly- Wholesale Clay bricks in Mohanpura are sustainable and natural building materials since they are made from natural and eco-friendly raw materials like clay and water. Bricks and pavers are completely free of contaminants and allergies, making them particularly friendly to humans and the environment. They also have an exceptionally long shelf life of well over 120 years and are frequently recycled.



Durability- is an essential aspect in sustainable building design since the longer a structure lasts, the fewer materials and energy it will require in the long run. Clay brick is a long-lasting and timeless building material that matches the aesthetic and practical requirements of any structure.


Energy efficiency- Clay bricks in wholesale are well-known for their thermal properties, which give warmth in the winter and cooler temperatures in the summer, preventing energy from being wasted on artificial heating and cooling devices.


Fire Resistance- clay brick is incombustible, it will not contribute to the initiation or spread of flames, nor will it add fuel to make a fire more intense. Wholesale clay bricks in Mohanpura have been shown in tests to have the highest fire rating, which indicates they can survive fully formed flames longer than any other conventional construction material.


Weatherproof- clay bricks are made water-resistant by the manufacturers making them immune to all types of weather conditions. They are made up of a tiny capillary pore system that may absorb moisture from rain or water vapor and swiftly release it back into the atmosphere.


Dimensional Precision and Symmetry- clay bricks are the most compressively strong and dimensionally stable. Building deformations can cause shrinkage and creep of mortar, which can lead to surface cracking owing to compressive stresses and temperature variations. These problems can be avoided by using clay bricks.


Specifications of Clay Bricks
The wholesale clay bricks in Mohanpura are available in a size range of 240 mm x 110 mm x 52 mm. As the name suggests, these bricks are made up of clay and are rectangular. The color of clay bricks ranges from dark red to brownish color.


These wholesale clay bricks come in a variety of weights starting from 2.5 kg up to 3 kg. Every single piece of clay brick delivers properties such as sturdiness, texture, size variation, compressive strength, water absorption, and efflorescence.


The wholesale clay bricks in Mohanpura are the most resistant and durable products used for construction purposes and are available at very pocket-friendly rates.