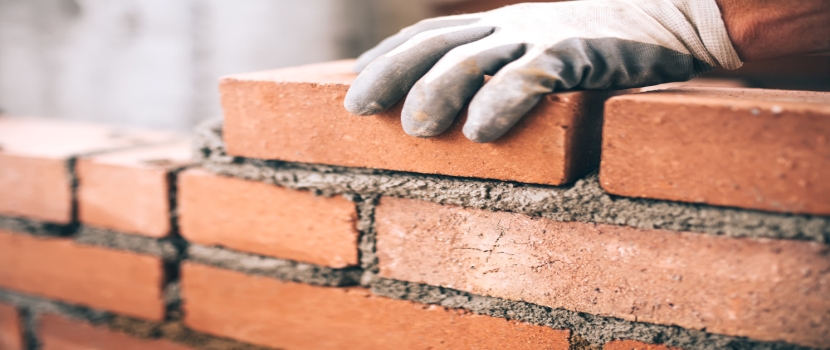 Clay bricks are a man-made substantial that are extensively used in construction of building, civil engineering work and landscape architecture. These bricks are manufactured from clay by burning it at high temperatures. The heat is required for hardening the clay particles, which leads to intensely strong ceramic bonds in the clay bricks. Clay bricks have the legitimate and warm colours of burnt clay which are stable and resist hazing. Clay bricks can also be produced in other natural and appealing colours using distinct clay compositions, heating temperatures or kiln atmospheres.
Clay is one of the materials which can be moulded in many ways and have a great scope of customization. Apart from using clay bricks on walls, they can also be used for paving footpaths, sidewalks, driveways, and other walkways as well as for garden beds.
Composition of clay bricks
• Silica
• Alumina
• Iron Oxide
• Magnesia
• Lime
• Organic Matter
Chief ingredients of Clay bricks
Silica (Sand) and Alumina (Clay), these two are the most essential ingredients in Clay Bricks. When it is blended with water in the appropriate ratio, it acquires the required plasticity. The plastic mass is easily molded and dried. It should not be cracked, shrinked or warped
Manufacturing Process of Clay Bricks
Brick making process involves mixing of various ingredients in proportionate amounts at fixed moisture ratio before extrusion or pressing. Thereafter, the process of drying and firing durations as well as temperatures are to be controlled to produce the perfect brick.
Manufacturing Process involves:
Preparation of Raw Material (excavated & ground)
Forming or moulding (mixed with water to a plastic condition to produce the required shape) – Stiff-mud, Soft-mud, Dry press processes
Setting and drying
• Enamelling: It provides a thin & smooth coat on the surface.
• Firing or burning: In kilns above 950°C
• Cooling: rate of cooling affects
The properties that most concern the users of brick are:
1) Durability,
2) Color,
3) Texture,
4) Size variation,
5) Compressive strength
6) Water absorption.
7) Efflorescence
8) Warpage
In India, a vast variety of wholesale clay bricks is manufactured every year. Today, clay brick manufacturing plants are fully automated and counted among the most technologically advanced in the industry. They understand that the construction needs solicited by a wide number of homeowners, builders, architects, and designers and has sourced best suited inventory of building materials that is specially adapted to Indian weather conditions. The Indian manufacturers of wholesale clay bricks in Mohanpura suffice the requirements of their clients all over India.
The suppliers of wholesale Clay Bricks in Mohanpura should take into consideration the following vital aspects-
They should acquire the raw material from the leading manufacturers in the industry, who use the finest grade and innovative techniques for producing it.
They should ensure that the offered Clay bricks are perfectly finished, dimensionally accurate, durable and long-lasting.
They should be supported with modern shipment facilities which ensure prompt and safe delivery of products.
Suppliers of wholesale clay bricks in Mohanpura strive hard to meet urgent as well as bulk orders without any delays in order to assure maximum client satisfaction.
They should also offer convenient payment modes.
They should offer fine quality clay bricks at the leading market rates.
Hence, it can be concluded that Clay Bricks is the perfect material for the construction.